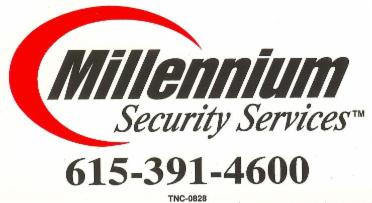 Tennessee Alarm Contractors License TN C - 0828 With Classifications in CCTV & Burglary
Alarm System Monitoring
We offer monitoring via "Rapid Response Monitoring" and "CMS Monitoring"
Our Monitoring is as good, if not better than, the Big National Chains

.
Our Monitoring Stations are UL Listed and "Mirrored" thru sister stations across the country, to provide complete redundancy in the case of a disaster in any station location.
Our Average Response Time this year has been less than 20-Seconds! (updated 7/25/2022)
Types of Alarm Monitoring Offered
Burglary and Fire
Cellular 4G/LTE

- Is used as main communicator - Most Common Form
This form uses a Cellular Radio Unit, like your cell phone technology, to transmit the alarm information to the Monitoring Station. This form is digital and supervised by the alarm system and will display trouble info if needed. This is very Reliable and Secure!
Internet Communicator

- Sends digital alarm signals over the Internet.
This form uses your "always on" high speed internet connection to send the alarm information to the Monitoring Station. This is very fast! Less than 4 seconds to the Monitoring Station! Which means faster response to your needs.
Dial-up
- previously
most common form

**no longer offered on new installs**
Basically the alarm system, in your location, will use your POTS (Plain Old Telephone Service) to call the central monitoring station, via a 800 service and transmit the alarm information to the Monitoring Station. POTS is NOT the same as VoIP, see below.
VoIP Monitoring

- Any Alarm Monitoring thru VoIP is not recommended due to a proven fact VoIP is an unreliable from for Data transmissions from Alarms & Fax

Machines.

We no longer offer this type of communication option.
The NBFAA/ESX does not endorse the use of VoIP Services for Alarm Monitoring.
Use the Cellular Communicator &/or Internet Communicator when VoIP is only form of phone service present as a backup communicator.
See the VoIP Tab for more information
*****************************************************************************
OUR MONITORING AGREEMENT
All Installation, Service or Alarm System Monitoring Services require an agreement to be signed to protect both you and the company.
Alarm Monitoring - We ask for a 2-year agreement with a 1-year automatic renewal. However, we can work with you and make changes to this as needed for as short as a 1-month initial agreement and 1-month automatic renewals.
Why Automatic Renewals you ask - if the agreement was not an automatic renewal agreement and the agreement expires, your services would stop until you manually renewed the services via a new agreement. This way, your services do not expire without notice.
To cancel an agreement - Call our office first! Minimum notice of 30 Days is required.